Safeguard your business with proper sanitation
As many of us begun returning to work, many business operations are reviewing their hygiene and sanitation practices to ensure their working environment remains safe for their employees and their customers. More so in a commercial kitchen, here are a few pointers to give some thoughts to reopen restaurants and eateries in a safe way.
The differences between cleaning and sanitisation
There are significant differences between the two terms. Cleaning is when you use water and detergent to remove food waste, dirt and grease from dishes. It gets rid of microorganisms on the surface temporarily without destroying them.
On the other hand, sanitisation lowers their prevalence to a safe level by using heat, water and chemical solution. The best practice is to clean items before sanitising them.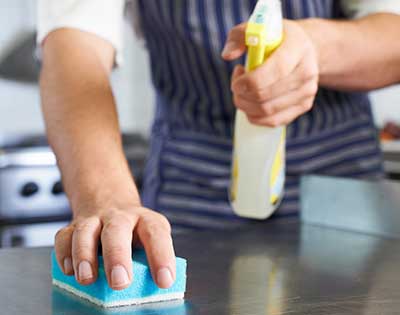 Leading with the commercial edge
Although hand washing might seem to get the job done, however, it will never achieve the same level of cleanliness as sanitisation would. This is due to the lower heat and regular detergent used during the process. In contrast, commercial dishwashers can clean as well as sanitise. To meet the International standard of rinse temperature on commercial dishwashers, the machine has to reach 80°C – 85°C during the rinse cycle where there is no sanitiser chemical used.
Our Washtech commercial dishwashers and glasswashers range meet this standard, even during their short 60-second cycle. If you are looking for a highly efficient, easy to use undercounter dishwasher, the compact Washtech UD and XU are among the popular choice. With one of the industry's lowest water consumption rates, both machines fit a 500mm dish/ cup rack and rinse at 82°C during the rinse cycle.
For fast-paced commercial kitchens looking for a high powered passthrough dishwasher, Washtech's AL and M2 are top of the list to do the job. They will both automatically start upon door closure and features a soft start program, which protects the more delicate items and ensures a consistent clean every cycle.
Follow some simple rules…
Firstly, don't forget to clean the machine and filters regularly. Secondly, make sure you are up-to-date with a maintenance schedule. Most importantly, always follow the manufacturer's instructions and only use the correct sanitising chemical or detergent specified for that model.
Always double-check all items are clean at the end of each cleaning cycle. Finally, make sure you had thoroughly cleaned your hands before unpacking the machine.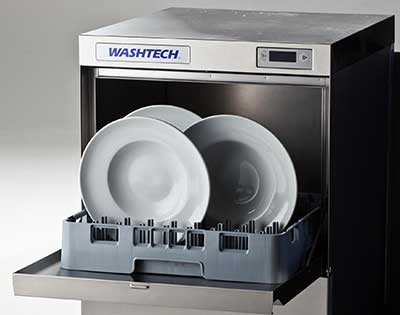 Any questions?
We are here to help! Feel free to contact us or book a demo if you would like to have a chat about the commercial warewashing solution that suits your business.