A bit of rabbit and pork.
Known for his hearty fare, noseto-tail philosophy and charming Irish accent, Colin Fassnidge is Australia's chef du jour – and with good reason. He took a break from his busy schedule to share some inspiration, favourite dishes, and what he looks for when fitting out one of his acclaimed Sydney restaurants.
GROWING UP
Where did your initial passion for food begin?
It started at home with my Mum and Dad. In Ireland, family life has always been based around food. My father was a good cook. He cooked for the family twice a week, which was unusual for that generation, and we were invited to cook as well.
What was the first dish that you ever cooked?
When I was just starting out I cooked a bad confit rabbit. I didn't clean it properly, it smelt of urine, and it was undercooked. My Dad told me to throw it away.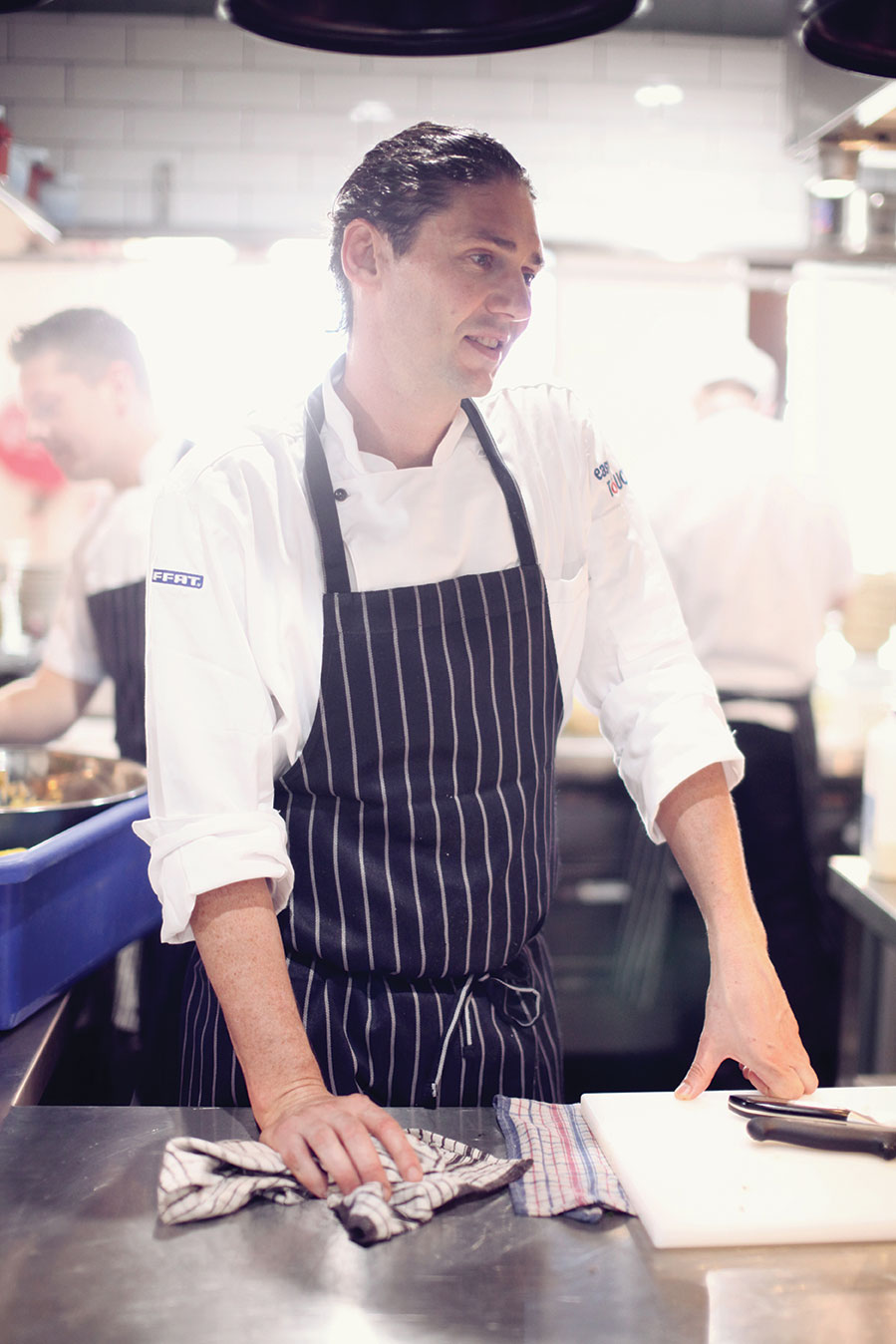 Who has been the biggest inspiration in your career so far?
Raymond Blanc, Liam Tomlin and Matt Fleming – my head chefs throughout the years.
ARRIVING (AND STAYING)
When did you arrive in Australia and why did you decide to stay?
I arrived in 1999 on my own, and I stayed because I got a job at Banc, working with Liam Tomlin – another Irish chef. The food scene in Sydney was booming at the time, and they sponsored me. I now have Aussie kids and businesses so I'm here to stay. This is home.
How does it compare to other cities around the world?
Sydney is miles ahead. It's laid-back but it's multinational and anything goes. You can eat really well and drink really well. It's safe and there's a great lifestyle. Buying a house and trying to find new chefs can be a nightmare though!
MAKING IT WORK
Being a high profile chef, how do you balance the work/life scenario?
Having a good team around me has enabled me to get out of the kitchen more. Before I had my first daughter I was all about work. But when she was born I made a conscious decision to work less. And the more I stepped outside the work bubble the better my cooking got – and the better my businesses got.
How do you ensure consistent quality across your restaurants?
By employing great staff. I am also around and involved a lot, as is my wife. We have our fingers on the pulse with what's going on with the restaurants, and we employ a team who've worked for us for a long time who we can
trust.
Do you have anything in the pipeline?
We do have things in the pipeline for later this year – a few pub projects that are up and coming.
What has been the highlight of your career?
Not going broke, yet! I don't know – I don't really sit and look back too much
as I'm too busy looking forward. Probably
having my kids was the biggest highlight as they really changed the way I worked and made my cooking better.
What do you most enjoy about your day-to-day work?
I am very lucky in that I have never seen what I do as a job. It's a passion.
That doesn't mean it's always easy. But I couldn't imagine working where you felt you had to get up every day and go to a job you hated. My job's all over Australia now and I'm travelling a lot and meeting new people, which is also great.
FAVOURITES
What is your favourite dish and why?
Pork and pork! When I'm not eating in my own restaurants I also love Asian food.
What's your customers' favourite dish and why?
We change our menu quite often, so our customers' favourite dishes are often changing too. We are good at suckling pig and pork shoulder though.
THE EQUIPMENT EXPERIENCE
What attracted you to the Moffat in the first place?
I started with Moffat a long time ago, way before I had 'made it' as a chef. The service was consistently excellent. I respected this, as they looked after me purely because I was a customer, not because of my reputation or my
restaurants.
What do you like about working with Moffat?
Moffat has also always provided fantastic after-sales service. It makes a big
difference. And it's another reason why I've used them in every restaurant I have had here in Australia and why my kitchens have always been designed around the equipment.
What do you look for when investing in new equipment?
It depends on the particular job, and how the equipment will fit into the space. I need equipment that can take the workload we throw at it. It's why I appreciate the wide range and look of the Moffat equipment – and why I
particularly like the flat top grills.
Why is investing in good equipment so important?
It saves time, money and grey hair. If you buy cheap and nasty equipment
you'll end up paying tenfold to get it fixed. If you're building a house you start with a good foundation. It's the same with a kitchen.