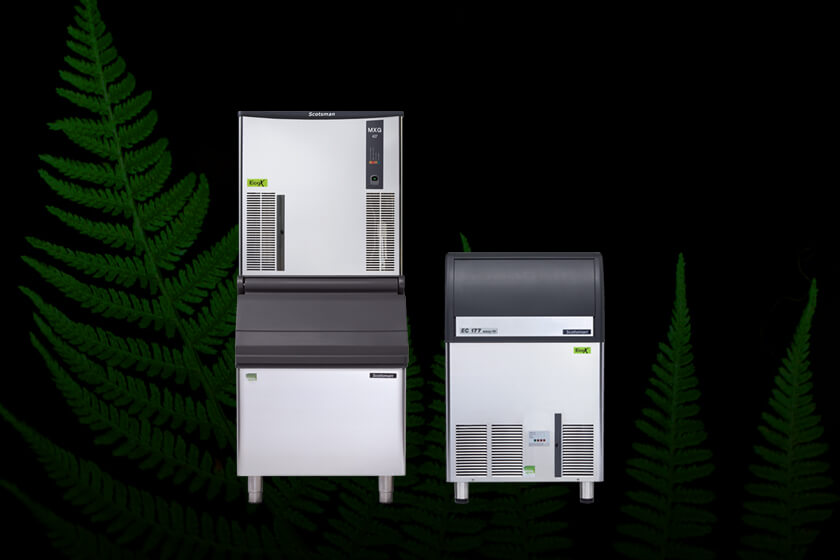 5 questions to ask before you buy your next icemaker.
And 1 answer for the best result.
Each day the reality of climate change is hitting home with greater force here in Australia. There are a huge number of ways we're all making sensible decisions in how we act and what we buy. One way astute restaurant owners and chefs are making is in how they evaluate buying a new commercial ice machine. Read on to see how you can ensure your purchase is a win-win…
For Australia's chefs and restaurant owners it's no longer simply 'cool' to consider the bigger picture of environmental sustainability in their equipment choices. It's vital. Thankfully, such decisions can be both a win for the bottom line and a win for the world around you.
Since 2003 the Scotsman brand has been pioneering innovative and eco-friendly ice machines, equipment that has helped many Australian businesses increase the quality of their output while reducing their impact on the environment.
Now, with the release of the EcoX range into Australia, the brand's reputation continues to grow. It's a great conscious decision to move its focus on building green products and keep the environment within the glass cool without contributing to warming the environment outside it.
What does this all mean? Before you consider the qualities of the range, we've summarised this climate change big topic and how the hospitality industry is involved in.
1. Why focus on climate change?
Whether certain politicians or business 'leaders' say so or not, climate change is here, it's happening and it's not going to go away in the near future.
The effects of rising temperatures and irregular weather patterns are being felt right now, with the intensity of our storms and the tragic consequences on wildlife and communities across the country. Reducing greenhouse gas emissions is front-of-mind for both consumers and the business owners that serve them.
2. What's the deal with all HFCHFHCHC stuff?
The change from one set of initials to another can be confusing. Here are the main terms – and why it's important.
First, CFCs were the 'really bad' compounds were used in fridges back before most realised the damage these were doing to the ozone layer.
HFCs (hydrofluocarbons) and HCFCs (hydrochlorofluorocarbons) are more ozone friendly, energy efficient refrigerants that are generally of low toxicity and non-flammable. But they still contribute to global warming when released in to the atmosphere.
These compounds are known by names such as R404a and R134a, and are most commonly used in refrigeration and air conditioning equipment. Collectively the compounds used are defined as 'f-gases'.
3. What's happening in the big picture?

Around the world a far greater focus has been placed on putting in place key measures that will help reduce the impact of climate change.
The European Union has done so when, in 2006, it committed to taking strong action against climate change and created what is called the F Gas Regulation. Their intention then was to ban the use of harmful refrigerants by 2020.
Here at home the Australian Government has already commenced implementation with measures to reduce HFC emissions with a 'phase down' initiation of all equipment using these compounds. This has been happening since 2018.
4. How does this affect what's happening in the restaurant?

The overall hospitality industry might not be directly affected in the everyday operational sense by climate change today. But it is clear that there will be major impacts on our society tomorrow – and that includes the places where we eat and work.
The introduction to the Australian market of new incentive is a logical response to consumer demand for more ethical, eco-friendly produce, processes and equipment in the average commercial kitchen.
For refrigeration and ice makers, you will also start seeing product specifications change on the equipment as the government limits the importation of synthetic f-gases into the country.
5. So what are my 'green' commercial ice machine options?

Older ice-making technology can use a lot of power to little good affect. If you're looking to purchase or replace your ice machine there's now the opportunity to 'go green' without compromising quality or efficiency.
When it comes to making a sustainable, earth-friendly decision first find equipment that uses naturally occurring resources, also known as the "Gentle Five" of refrigerants. These are non-synthetic substances that can be used as cooling agents such as hydrocarbons (R290), carbon-dioxide (R744), ammonia, water and air.
Any equipment that uses synthetic f-gases (R404a and R134a) will also be at risk of high maintenance costs in the future due to the limited availability of the compound and, with it, the necessary expertise to repair this technology.
6. Why should I consider an EcoX modular ice maker?

To start with, the Scotsman EcoX range only uses natural refrigerants. These refrigerants are fully compliant with F Gas Regulations and have almost zero Ozone Depletion Potential (ODP).
Then there's the accumulated expertise and experience that goes into research and development at the company. Scotsman has worked hard to design innovative products that help save resources and respect the planet. The brand is world renowned both for crystal clear ice and high efficiency and superior performance.
Then consider the specific strengths of the EcoX range. With 22 models in the range, it offers wide array of solutions to fit every need.
In the gourmet ice cube range (perfect to use with spirits), there is the popular EC Series of self-contained small commercial ice machines, higher production ice makers, try the MXG Series of modular ice makers and combine with a range of different capacity ice storage bins.
Then there's the NW and MV Series of modular dice cube ice makers, the MF Series of modular ice flake machines and the MAR Series of scale ice makers.
Between them this equipment covers every type of need, from luxury hotels, fine dining and high-end bars to QSR, cafés, banquet venues and cinema businesses. From fish display counters, buffet displays and frozen drink preparations to food processing and large food displays in supermarkets, the EcoX range delivers the ice with minimum fuss and maximum efficiency and quality.
When Scotsman first launched the R290 ice machines close to two decades ago the company already had a well-entrenched 'respect every resource' mindset in place. Power and water requirements and overall eco-friendliness of its commercial kitchen ice makers and ice flakers needed to meet and consistently surpass the standards.
The debut of the EcoX range will ensure the company can continue to lead the way.