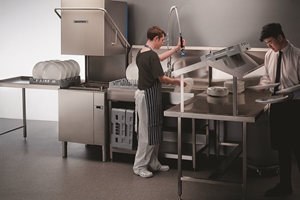 A commercial kitchen that can get things done to a high standard with minimal waste is one that will be able to operate at a much higher capacity than one that is wasteful. One of the biggest costs associated with kitchens is water usage, which can result in huge costs for a business. By investing in a dishwasher than can reuse water to clean your cutlery and crockery, you'll be able to both save money and benefit the environment.
It's worth investing in a Washtech wash system to save operating costs and keep your kitchen operating efficiently, plus it's good for the environment.
Environmental sustainability with Washtech
Washing dishes comes part and parcel with every commercial kitchen, but that doesn't mean a chef or restaurant owner should forget about the use of water consumption at this part of the service cycle. After all, water is a finite resource, and we need to be careful how we use it.
Washing dishes by hand can use well over 50 litres of water in a single session. Switching to a commercial dishwasher, and especially a recirculating dishwasher or glasswasher, can result in long-term savings.
Ultimately though, all of the water that goes into the dishwasher will end up going down the drain, so limiting the water that your dishwasher needs is absolutely imperative.
Washtech have developed a new standard in cleaning – with further reduction in water consumption across the range. Certified both locally and internationally, the company's range of commercial glass-washers and dishwashers meets the highest standards of efficiency with water consumption per cycle as low as 1.5 litres.
Popular models such as the M2 passthrough dishwasher are specially designed to use only 2.4 litres of hot water per cycle. An innovative filtration system enhances wash performance with active control of water to ensure a fresh hot rinse water in each cycle.
This not only enhances wash performance but also efficiency, by retaining valuable energy and reducing chemical requirement. This makes them some of the most efficient products available for any business and a great way to limit your environmental footprint.
Financial sustainability with Washtech
Operating an environmentally responsible kitchen isn't just an act for the conscience, though. With the cost of water in Australia rising, according to the Australian Bureau of Statistics, it's just as beneficial to your wallet to limit wastage. By drastically reducing your water consumption with a Washtech machine, you'll be able to reap the benefits of a reduced water bill.
Rather than pouring money down the drain, it can be reinvested in new commercial equipment, additional staff and a wealth of other ways to make your business better.
Of course, all of this means nothing to you or to the environment if the machine breaks down, has to be tossed in a landfill and replaced. That's why all Washtech products are built to last with copper rinse boilers and extra strong doors. They also feature our 5-2-1 Promise warranty so that you are looked after, just in case anything goes wrong.