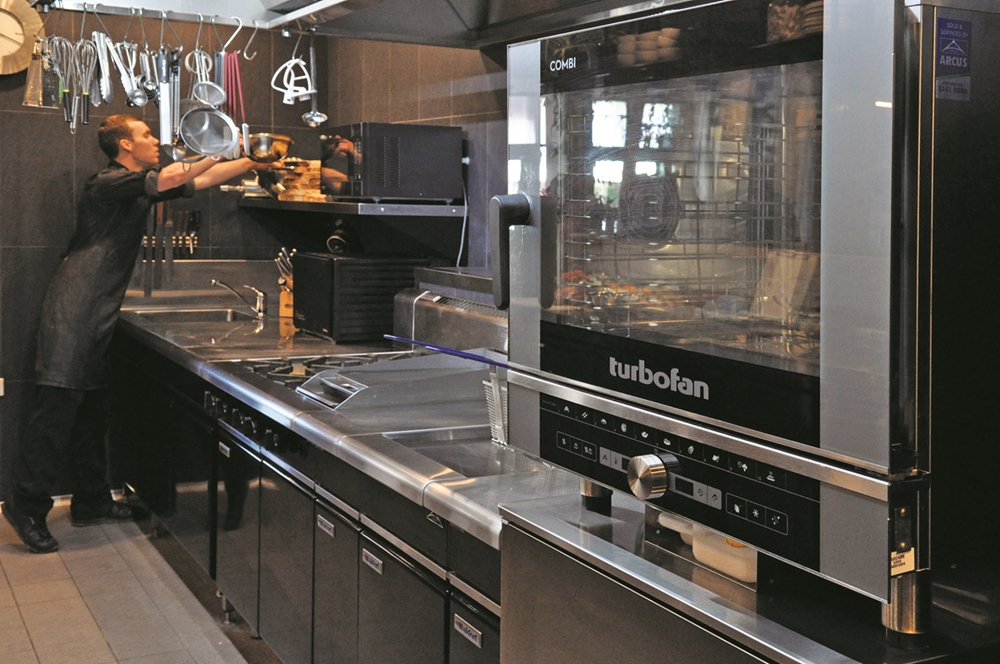 It's no secret that the combi-steam oven is a hugely effective tool in the arsenal of any kitchen. The cutting-edge technology behind these appliances has seen them snapped up by Quick Service Restaurants, cafes, and bulk food preparation operations, so we thought we'd dive a little deeper into the magic of these kitchen wizards.
So, we caught up with Moffat's National Product Manager, Perry Peters, to take us through the finer points of our combi-steam ovens.
What are the broader pros of using a combi-steam oven?
One important thing to remember about combi ovens is that they are a multi-function tool – far more than just an oven. They can do so many different cooking jobs, on a very small footprint, so even the most minute of cafes can comfortably house them.
Combi-steam ovens are so flexible that the kitchen can offer an enormous variety of food offerings, leading to a pleasingly diverse menu. It offers a modern, technologically advanced solution that offers so much to kitchen managers and food production operations – and that's down to its versatility.
Combi-steam ovens are so flexible that the kitchen can offer an enormous variety of food offerings, leading to a pleasingly diverse menu.
Grilling, crisping, drying, frying, dehydrating, steaming, poaching – the combi-steam oven can do them all, and then some, allowing restaurant, cafes and the like to add so much more to their repertoire. The food market is highly competitive, and the combi-steam oven can give you that edge – with quality food cooked over a shorter serving time.
Why are more people choosing to have a combi-steam oven in their kitchen?
Perry says that there has been a large uptake in combi-steam ovens over the past 10 to 15 years, as people are beginning to understand the aforementioned benefits. When the appliance first saw the light of day, Perry says, people didn't quite understand the advantages that it could bring.
These days, no one is in the dark. Whether it's a small cafe, or a big production kitchen in a school or hospital, everyone is starting to see the benefits and make an investment in a combi-steam oven.
How does a combi-steam oven compare to a convection oven?
Because the combi-steam oven offers so much control over factors such as humidity, temperature and even airspeed, it can do things that a simple convection oven cannot do. A convection oven uses dry air heat, so baking and roasting are its specialities. However, the combi oven uses steam saturation, so again that versatility comes into play. It can be your sous vide machine, your bread proofer, or it can simply boil a pan of water – that steam saturation opens up a world of cooking possibilities.
What are the pros of using a combi oven for different types of eateries?
Whether used in a small cafe or large restaurant, a combi will consistently deliver a better product, with less moisture loss, in a quicker time than any other appliance. This is true even up to the biggest end of the scale – convention centres that could have several hundred attendees in place at certain times. Combi ovens allow for 'plate regeneration', meaning that the work can be done before a large function. The combi ovens will intelligently – and to a high quality – regenerate that plated food, making said function consistent and a lot easier to deal with. This also allows you to spread labour costs over that time as well.
Nutrient retention is another big plus, and hugely important for facilities such as hospitals and aged care homes – combi ovens are a hugely popular choice in such operations.
A combi will consistently deliver a better product, with less moisture loss, in a quicker time than any other appliance.
Are there any downsides to using combi steam ovens?
The only real downside to combi-steam ovens is the perception that they're expensive, but when looking at the return of investment, people quickly realise that purchasing one was a very smart idea. Previously, the entry-level price for a combi was pretty high, but it's far lower now – actually starting at a convection oven price. This makes this great technology far more accessible to a whole range of different businesses.
What foods work best when cooked in a combi-steam oven?
Perry says that roasts and seafood work especially well when cooked in a combi. A dry convection oven will draw most of the moisture from such products, but a combi steamer creates an environment where the food won't dry out due to the humidity. Additionally, you'll get a better yield with a combi – products won't lose weight in moisture loss, so your customer won't feel short-changed!
Which foods aren't so suited to be being cooked in a combi-steam oven?
There aren't many products that can't be cooked in a combi, but Perry doesn't really recommend foods that require stirring. This is only because you'd have to keep opening and closing the door. For example, scrambled egg, or perhaps a risotto wouldn't be appropriate, but there are other products in the Moffat range, such as the Metos mixer kettles, that can do that particular job perfectly.
Are they difficult to maintain?
Not at all. Almost all of the models in Moffat's range have automatic self-cleaning, so once the shift is over, all the staff have to do is press a button – nice and sparkling-clean, ready for the next day.
Almost all of the models in Moffat's range have automatic self-cleaning.
What kind of people are combi-steam ovens aimed at?
The demographic has become quite broad in recent years. The traditional market has always been restaurants, conference centres, hotels and hospitals, but now we're seeing them go into aged-care facilities, cafes, bakeries (one unit can proof and bake) and they're even turning up in supermarkets. That's because they're now providing fresh food to customers in-house, with a wide menu, from one appliance.
Are there any groups of people you wouldn't recommend a combi-steam oven to?
Realistically, any food industry out there can and does benefit from investing in a combi, which is the reason they are so widespread these days. There's no one we wouldn't recommend one to!
What should a chef be looking out for in choosing which combi to get?
Perry has always told his clients is that as a food business, it's so important to future-proof. The combi-steam oven goes a long way to safeguarding your business against the future, in a variety of ways. For example, you might not believe that you have enough space for a combi, but the Convotherm Mini Series means that it's still possible to fit them in almost anywhere – don't let perceived restrictions put you off!
There is a certain formula that chefs should look at when choosing a combi, says Perry. One tray in will feed around 10 people, so if you operate a 100-seat restaurant, it'd be worth taking a look at a 10-tray oven. If your restaurant is a little smaller, opt for a six-tray oven. Want to go bigger? No problem. A 20-tray oven will look after 200 people, so take your pick!
If you're unsure, it's always wise to engage with Moffat IQ – we'll talk everything through and look at your options. Not only that, we'll examine your business and the sort of products you want to put out, and make a recommendation that way.
Want to know more?
We encourage anyone who's thinking about investing in a combi-steam oven to engage with Moffat as much as possible. To really see what the combi-steam oven can do, it'd be well worth your time to attend a demonstration, which we hold across Australia and New Zealand. Not only will you witness the ovens in full stride, you can also discuss which unit will suit you best, as there are so many variables and options within the Moffat range – it can sometimes get a little confusing, such is the choice on offer!
To find out more, be sure to contact our expert team and discover what we can do for you.