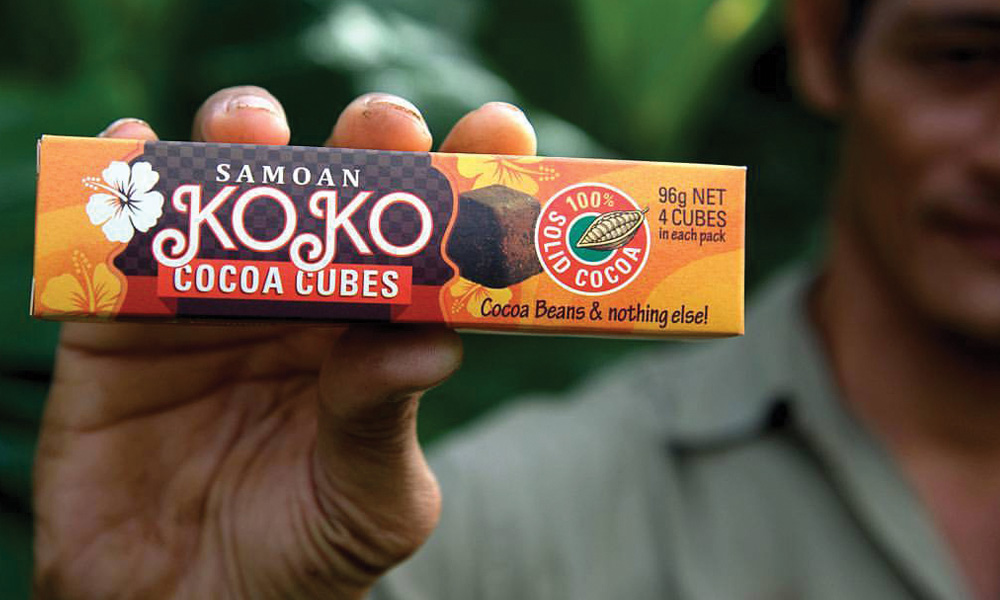 Nora's Plantation Foods is realising success in the export market with their delicious, nutritious and quality products. And due to this success, it is directly helping to preserve a community's way of life.
In the early 20th century, the first plantations were established during the era of German colonization. Cocoa, or as the locals call it, Koko, has long been a staple crop in Samoa. Along with the other main crop of taro, it has since been a mainstay of the island nation.
However, the Koko industry is under great threat because many plantations are now abandoned as a result of urbanisation.
Quality KOKO for worldwide customers
The inspiration for the company and its name came from Mona Lisa's grandmother, Nora Karene. The "aiga", or extended family, is therefore of utmost importance to this enterprise. It is reflected likewise in their motto too, which is simply translated as 'nurturing families'.
"Abundant plantation crops in Samoa are ideal for creating tasty nutritious foods and exotic ingredients to look after the family," says Mona Lisa. The company is dedicated to producing "exciting, safe and quality foods for worldwide customers".
The products ranged from organic virgin coconut oil to different Koko related products. This also includes the whole Koko nibs, paste and cubes.  Furthermore, for those who are unfamiliar with how to use raw Koko products, Nora's website proves a useful resource with recipes. For example the Cacao Banana Recovery Smoothie, Cacao Nib Porridge Topping, Late Night Chocolate Coconut Dip, and Samoan Koko.
Trace your bean
Chocolate makers will be interested to learn that the most flavoursome Koko is the Trinitario variety, or Lafi7, as it is known in Samoa. The 'Trace Your Bean" label is a result of recognising that buyers are interested in the supply chain. Hence all products, as well as the packaging, includes a number to represent the plantation of where the beans were grown. There are seven main plantations around the island. Three of them on Savai'i and four on Upolu.
The making of the KOKO, sourced locally!
The owner of two plantations, Saena Mulitalo Penaia, is positive about the future. "I am very happy to be a supplier of Nora's. I can focus on primary production and let Nora's worry about the exporting and selling of the Koko".
After being harvested, the Koko is transported to the plant to be dried, peeled and graded. Furthermore, it is being roasted on a Blue Seal Evolution Series gas griddle. The griddle is an ideal choice for Nora's because the level of roasting can be raised to a commercial level easily.
"The griddle has proven very reliable and easy to use," says Nora's owner John Seedhouse."It has contributed significantly to the consistency and high quality of our roasted product."
"The application is quite unique, temperatures have to be specifically controlled, our Blue Seal griddle plate has proven a real winner."
"Together with Andy McCullum from Oceania Gas, the perfect solution was found for Nora's operation," says Rob Smillie, Moffat's Export Sales Manager for the Pacific.
It may only be one piece, but it is certainly great to know this technology is contributing to maintaining an important cultural industry and way of life.