Moffat and Washtech are now official suppliers to Emirates Team New Zealand. This commitment is now in full flight as every necessary detail is addressed to ensure a smooth and successful lead up to the America's Cup Qualifiers in May 2017.
Hosting VIPS at the world's premier yachting event in Bermuda requires a level of experience and expertise akin to that exhibited out on the course. Comparable to the maxim that 'the fastest boat wins on the day' so too are preparations behind the scenes leaving as little to chance as possible.
"Then there's the human element to the operation, with 70 team members and their families traveling to Bermuda," says Tom. "We need to ensure their comfort and focus to get the best from the team."
A vital part of this comfort starts in the kitchen. For Harry Lynskey, the team chef for Emirates Team New Zealand, there has been a lot to consider when assessing what is required.
"We need to feed the team and the support staff. Then we'll have approximately 70 VIPs being hosted each day," he says. "To serve both groups we are essentially building two commercial kitchens from scratch."
"Catering for such a diverse team, everyone from designers to sailors to boat builders, requires both a varied menu and, to deliver the performance where it counts, a consistent balance of the 'right foods' within the menu," says Harry.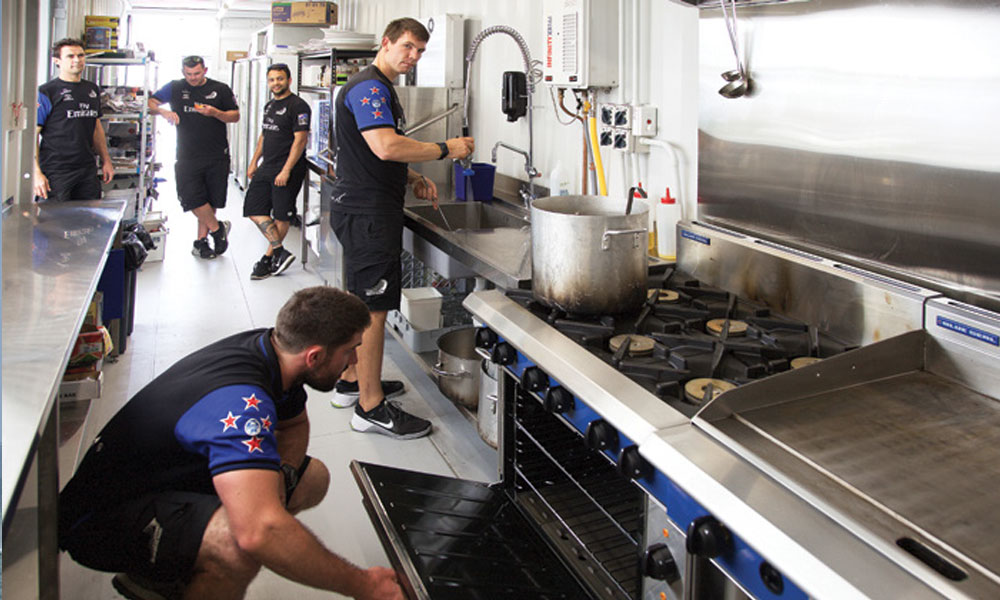 Moffat has supplied an E33 Turbofan oven along with a griddle and an oven range from the Blue Seal Evolution Series. "Costs are kept as low as possible off the water," says Tom. "Every possible cent goes into what's really the only priority – a fast boat."
"That's why the support of Moffat is so incredibly valuable to the team. It allows us to commit greater resources to where they are needed most."
Everyone at Moffat wishes the team all the best both on and off the water. We are proud to support their hard work and look forward to sharing news of their success in the future.