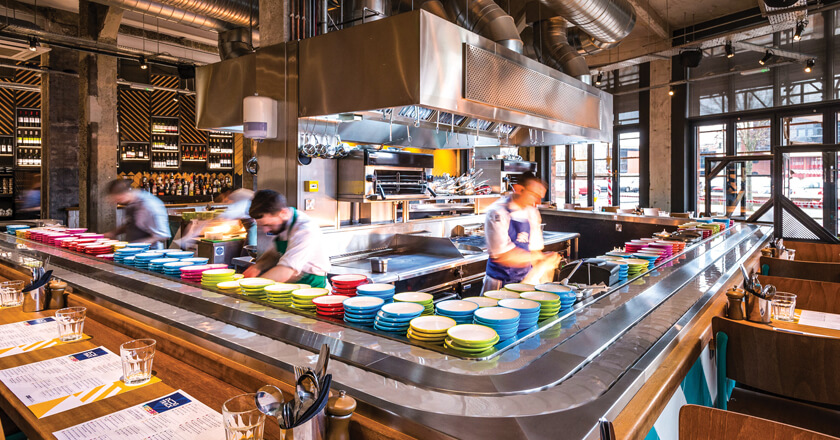 A sure bet
The doors have opened at the Dog Track and they're off and racing, with reviewers of Belfast's new restaurant loving every bite from the menu's plates (once they've managed to catch them).
A mix and match sure win
For the restaurant's chef / proprietor Michael O'Connor and front of house manager / proprietor Michael Fletcher it's somewhat of a 'new dog, new tricks' situation.
Their first project, The Barking Dog, has built a strong reputation for quality fare in a relaxed setting. With Belfast diners having plenty of dining options their second venture had to capture attention and ensure repeat patronage from day one.
The two Michaels delivered this at the Dog Track with both menu and methodology. The menu covers cuisines from traditional Irish through to Mediterranean and Asian inspired dishes, all served as small plate dining, with the emphasis on mixing and matching dishes and sharing. This approach provides the opportunity for diners to expand their culinary horizons.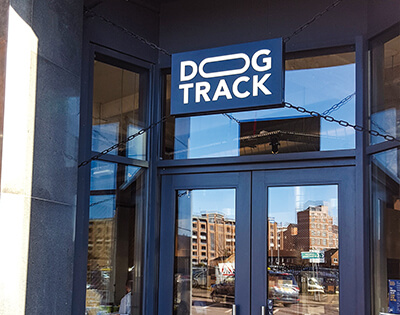 "We wanted to give customers the chance to try new food they may otherwise not have through worry they wouldn't like it," says Michael O'Connor. "The small plate medium allows people to experiment without the fear that they will 'waste' a main course if they don't like it."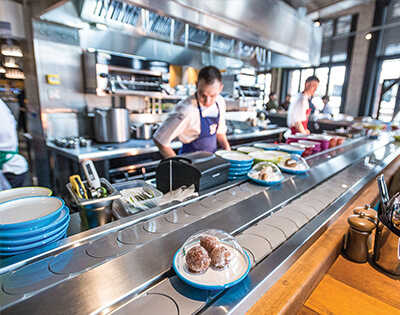 When the new style of dining hits town
The methodology is also interesting, and that's where the 'track' concept of the restaurant's name comes in. The open plan kitchen is right in the thick of the action, the central island providing diners a 360-degree view of meals being prepared and cooked.
From this kitchen cold tapas and desserts are sent out via the track, a transportation tool common in sushi trains but previously unseen in establishments such as this.
"The aim was to increase interaction between the chefs and customers and introduce some fun and theatre to the dining experience," says O'Connor. "Customers can either order from the menu or lift any food they like as it rolls by."
"We wanted to bring a new style of dining to the Belfast city centre, encouraging people to move away from the traditional starter-main- dessert dining format."
Ready… set…go!
A busy restaurant is a welcome sight for O'Connor, particularly given the race they had to get the Track up and running. The location, an old linen mill previously unoccupied for over a decade, had to be carefully refurbished. Construction work began in October 2017 and took close to six weeks to complete.
"Fitting a restaurant in a 'shell' proved to be quite difficult," says O'Connor. "While it's  good to have a blank canvas to work on this also presents its own unique problems, such as installing utilities."
"We were pushed to the wire with getting construction completed on time and arrived at court in October for our alcohol licensing with the ink literally drying on our building control certificate. O'Connor is thankful for the project team's experience in getting everything over the finish line.
"Gordon Devenney from O'Donnell O'Neill Designers ensured the restaurant design was perfect for our needs, Gary McMullan from Galgorm Group managed the kitchen fit-out with construction from Ronan Higham's team at Pure Fitout."
The Weaving Works complex now houses the new restaurant along with a café on the ground floor, with the building's upper floors used financial software company First Derivatives. It's a dynamic, exciting location and the restaurant is now well positioned to pace ahead other innovative developments, including a takeaway app for food on the go.
In the kitchen
At the Dog Track the kitchen is definitely a main focus. With 50 people seated at the track around the highly visible central island and another 30 at low tables, the cooking equipment here needed to supply both good looks and unwavering reliability.
"We took advice from various experts at Galgorm Group on the reliability and appearance of the Waldorf Bold equipment," says chef Michael O'Connor. "As our main cooking island is front of house and the customers sit around it, we needed something spectacular looking – and Waldorf was perfect."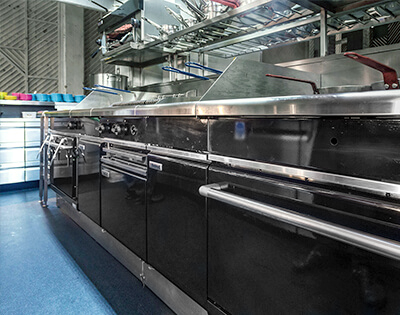 A Bold statement
The Dog Track has a full Bold range finished in black. This includes three gas target top convection ranges, two salamander gas grills, three gas fryers, a gas chargrill and a pasta cooker.
"All the staff were well versed in using the Blue Seal equipment from previous jobs or with us in our sister restaurant (The Barking Dog)" says O'Connor.
Just to be sure, Galgorm Group provided after-sale service on the equipment, and Dave Chesshire and Glenn Danks of Blue Seal checked everything post-installation to double-check everyone was happy. O'Connor states that the Waldorf Bold has certainly delivered.
"We've had numerous compliments from customers on the good look of the kitchen and have made local chefs green with envy when they visit."