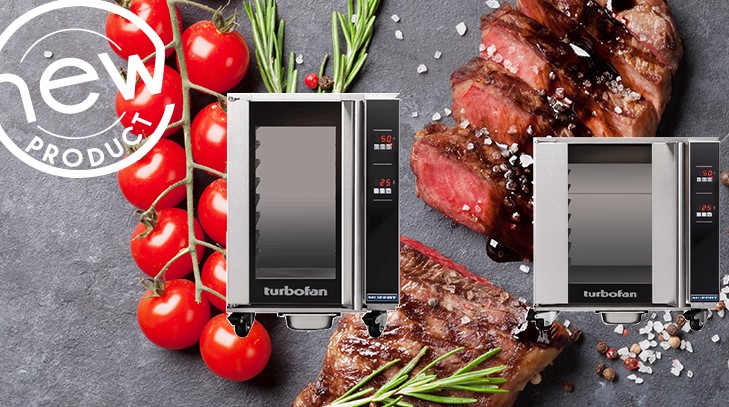 Tips: What to look for when buying a Holding Cabinets?
The Turbofan's consistent performance, compact footprint and many innovative features have been hugely popular in recent years. Now, with the launch of the new Turbofan 'H Series' Holding Cabinets for individual use or installed with a Turbofan Convection Oven.
Officially launched late January, 2017, the new Turbofan Holding Cabinets are an essential piece of commercial kitchen equipment for your restaurant, bakery or catering business. Turbofan Holding Cabinets can hold an array of hot foods at safe-serving temperatures for longer which minimises food wastage saving you money.
Space Saving Compact Size
Importantly, the holding cabinets retains Turbofan's legendary compact size, and boasts a small 610 or 735 mm wide footprint.  Make the most of your space, either behind the scenes or out front. Choose a holding cabinet based on your capacity, depending on your volume needs. Our range includes undercounter units for compact kitchens or full size models for large establishments.
Energy Efficient
Our Turbofan H Series Holding Cabinets are full double skin construction with a low velocity circulation fans system to improve energy efficiency – to help save you money on your energy bills.
Quality Reliable Brand
Versatile
The new 'H Series' has 8 new models in the range, choose from undercounter or floor models, 8 or 10 tray, Digital or Touch Screen.
This means they can provide high levels of quality output across a very wide range of products, from patisserie-style baked goods to meat, fish and vegetables. In addition, the new series provides flexibility in terms of cooking capacity being able to hold greater quantity of food for longer.
Holding Cabinet H Series – 8 New models:
Finally, request a free quote
As always, the Holding Cabinets represent excellent value for money, and will save you money with less food wastage and allow you to serve more customers hot food quickly during peak service periods.  View our range of
Turbofan Holding Cabinets
or contact our friendly sales team for a free quote on 1800 023 953.