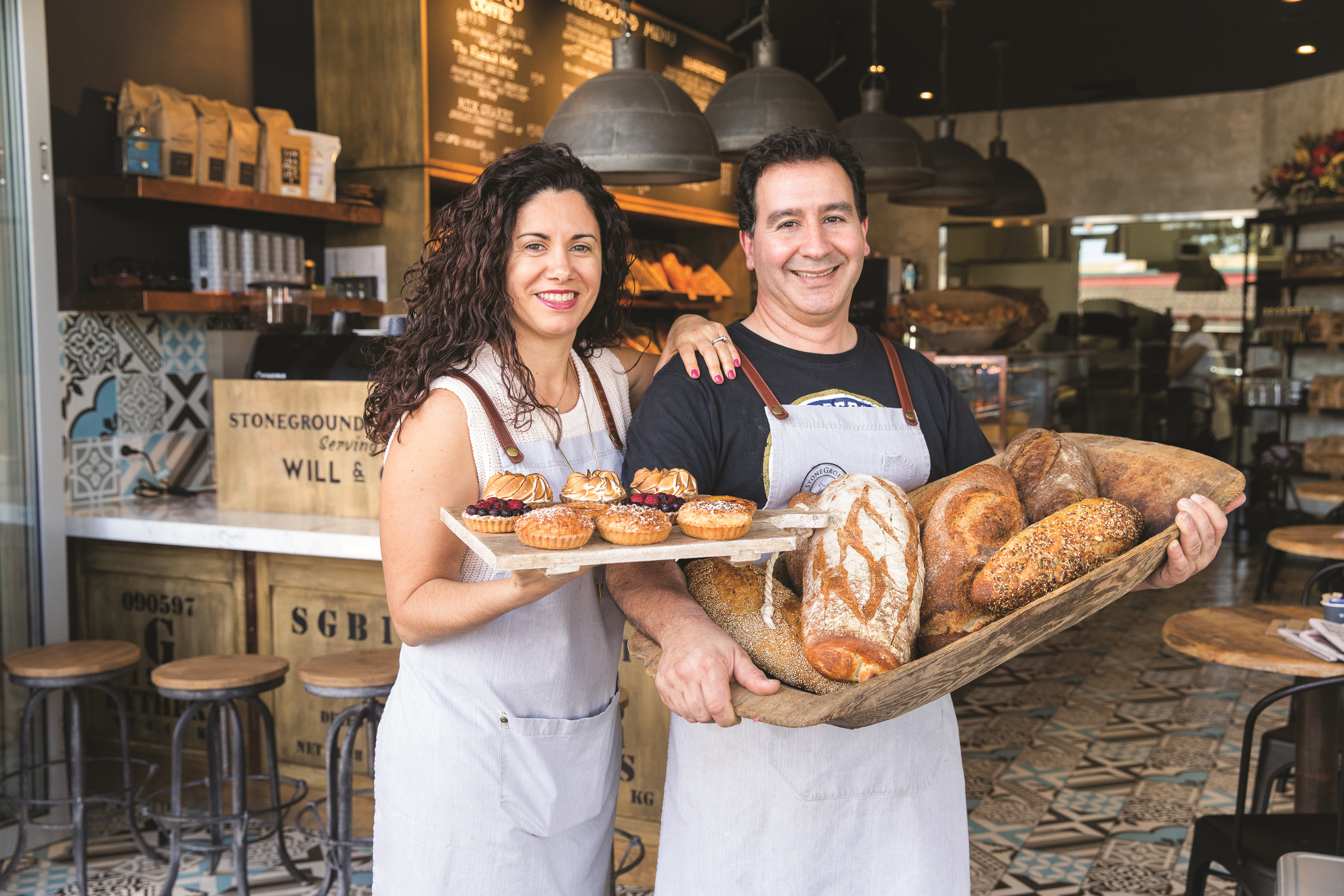 While artisan baking has recently taken Australia by storm it's been in the family of Angelo Frelingos for generations. Now, with Stone Ground Bakery on Sydney's north shore, Angelo continues to bring the greatest things from unsliced bread.
Over 25 years ago Angelo's father opened the well-known Gregory's Bread Bakery at the Sydney Fish Markets. When Angelo was 19 he joined him as an apprentice baker.
"When I was young and on school holidays Dad would take me to work with him," says Angelo. "I learnt a lot." At the time Angelo says, "I wasn't even sure if I wanted to become a baker."
"But when he opened a new bakery at the Sydney Fish Markets and asked me if I wanted to join him, I said 'okay', and well, I'm still there now!"
While the traditional methods have stayed the scenery has changed somewhat, and late in 2014, Angelo and his wife Melina launched an exciting new venture in Hunters Hill – the Stone Ground Bakery.
"We realise bakeries are changing a lot and we wanted to renovate our Pyrmont bakery," says Angelo. "But there are lots of restrictions in doing so there, and the plans were taking a while.
"We make a wide range of different breads, including wholemeal, rye, quinoa, spelt, olive sticks, olive and rosemary, ciabatta and pane de casa. Everything is done the proper sourdough way – we simply use a starter culture, flour, water and salt. No additives. No preservatives," he says.
Once the bread is ready at the bakery it is served in beautiful ceramic 'bread baths' which the Frelingos sourced and imported from Turkey. With this attention to detail and a generation-spanning passion for the craft, Stone Ground's success looks sure to continue.
When it came to setting up the bakery the Frelingos installed a wide range of Moffat equipment including a Tagliavini 9 Tray Deck Oven, Sottoriva Twist 60 Spiral Mixer, Washtech UD Dishwasher, Waldorf 800 Series 4 Burner Gas Cooktop, Paramount 20 Litre Bench Planetary Mixer and a Silhouette Bread Slicer.
At the same time they also upgraded some of the equipment in the Pyrmont site to facilitate demand, including a Rotovent Rack Oven, 12 Tray Tagliavini Deck Oven and a Rapidmac50 Water Chiller.
"We had a look around at the available options and decided we liked the Moffat equipment the most. The service and equipment was simply better than what others could provide for the same price," says Angelo.
One of the most striking features of Stone Ground Bakery (besides its food) is the open design, with the busy kitchen area completely on display to customers through a large glass panel. The high-end design of the new technology fits right in.
"The equipment looks great in there," says Angelo. "People get really excited about seeing the finished products come out."