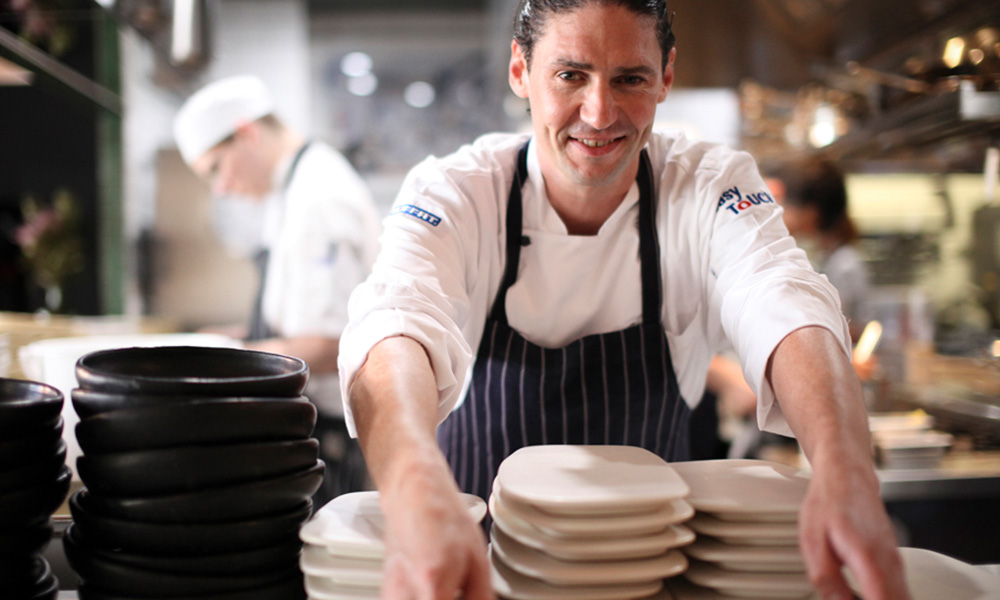 A 'full plate' would be an understatement for busy Irish born chef Colin Fassnidge.
A regular on My Kitchen Rules and appearing on other Seven Network's TV programmes, he has somehow managed to keep his 'chef cred' in one piece.
A part owner of the fabulous 4Fourteen and now heading up the cooking team at The Banksia Hotel, Colin is still first and foremost, a chef.
Involved in 4Fourteen from the ground up, Fassnidge oversaw the transformation from an old bakery and warehouse in Surry Hills to a formidable force in Sydney's restaurant scene.
Like any building project, surprises and compromise are part of the deal. Says Fassnidge, "When we set up 4Fourteen we were not getting enough power coming into the kitchen. I originally wanted an electric combi but that was no longer on the table. We ended up choosing a Convotherm gas combi from Moffat. It turns out its performance matches anything I could have used if electricity was an option."
Fassnidge made a name for himself as a slow cook king back at The Four in Hand and his love of this style continues at 4Fourteen. With a 'Nose to Tail' philosophy he turns the most undesirable off cuts into profitable, delicious dishes. Menu items include slow cook lamb shoulder, roasted pork neck and "the occasional ten kilo suckling pig"
In the kitchen
No surprise then that that Convotherm sees its fair share of action in the kitchen.
"We also use the Convotherm for cooking overnight. When you slow cook as much as we do at 4Fourteen, you need reliable equipment that you're not going to lose sleep over. It's really reliable and delivers a consistent heat over long periods." Says Fassnidge
A successful kitchen also requires a lot of staff, with a range of experience. Says Colin, "consistency can be an issue in a busy kitchen. The Convotherm has pre set programmes that are easy to operate. These come in handy when you have a lot of staff traffic."
The line up at 4 Fourteen also includes the Waldorf Bold (in black) and the Washtech.
"We installed the Waldorf Bold flat top at 4Fourteen. What I really love about it is that it radiates the heat out from the centre gradually. That to me is a big deal"
Fassnidge also has the Washtech Dishwasher. "It's speed and different settings save energy and it uses less chemicals. It's a vital piece of equipment in a busy kitchen," he says.
Challenges in the kitchen
Of the many challenges facing every restaurant is the inevitable equipment breakdowns. Says Colin, "Kitchen equipment breaks down occasionally. It's a fact of life. It's Murphy's Law that it usually happens on a Saturday! If anything goes wrong with Moffat equipment I make a phone call and we have a Moffat service man here straight away. You just can't risk kitchen equipment not operating at one hundred precent during a busy service." His advice for any chef looking to buy or lease kitchen equipment is to check with other chefs how the supplier approaches and deals with after sales service issues.
Inevitably this interviewer is keen to get Fassnidge's views on the impact that cooking shows have had on the industry. "It may not be all to do with these shows, but it's definitely a lot harder now to get good young people into the kitchen and keep them there. A chef's life is really hard work and when a lot of these kids see the reality of it, as opposed to what they thought it was going to be from watching these TV shows, they just leave and find something easier to do. Fifteen years ago I had an endless queue of young people wanting to work in the kitchen. I was having to refuse kids, I had that many to choose from. Today, it's the opposite."
Fassnidge sees the restaurant scene as a continual 'moving feast' in terms of trends and direction. "There will always be a Fine Dining option in big cities. I've noticed, this year in particular, there seems to be less cash in people's pockets. People are aware of what they are paying for and less likely to get caught up on 'the latest trend'. Customers know a lot more about food these days and what is and is not fair value for money."