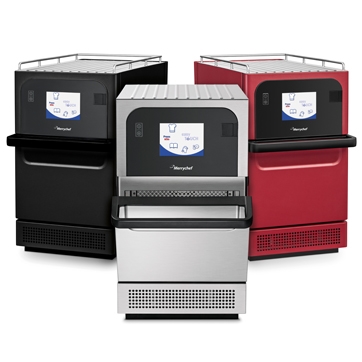 The modern fast food menu has a lot going on. It's not enough to simply offer the basic takeaways in this country – Australians crave foods that are as creative as they are quick and tasty.
Of course, that combination can be a challenge for the average takeaways shop, cafe or kiosk, especially as a queue starts to form. But what if we told you there is a simple way to diversify and expand your menu without sacrificing food quality or speed of cooking?
Enter: Merrychef speed ovens.
How Merrychef ovens bring food trends to life
You'll notice that a lot of today's foods can be made before the day's lunch and dinner rush – they just need to be heated up before being passed over to the customer. That's where Merrychef speed ovens like e2s come in.
Merrychef ovens prepare foods more than 15 times faster than the standard convection oven.
Merrychef is one of the world's leading rapid cooking ovens. It boasts four heating technologies (convected heat, Planar Plumes, impingement air and microwave energy) with an easy-to-use, icon driven touchscreen interface that allows you to tackle all of your recipes with ease. It's technology that creates a win-win for staff and customers alike.
But just how fast is fast? Merrychef ovens prepare foods more than 15 times faster than the standard convection oven – leaving you with crispy, hot treats that are sure to satisfy customer. Additionally, the ovens are made with cool-to-touch technology, so the food heats quickly on the inside while the oven itself stays cool on the outside. That means you can amp things up without sacrificing safety in the kitchen as well.
2018 fast food trends to expand your menu with
First, let's begin with a list of the latest fast food trends, according to QSR Magazine, that you can easily incorporate into your menu to spice things up.
Wholesome and healthy: Think toasted paninis packed with lean protein and lots of roasted vegetables.
Jewish flavours: The Jewish deli items are making a comeback, so consider inventing a twist on the pastrami melt, or just opt for the classic corned beef sandwich.
Contrasting flavours: Start fusing sweet, spicy, tangy and savoury together. Something like a wrap loaded with tomatillo salsa and chicken should get the creative juices flowing (or salivating).
Ethnic foods: People want to taste the world when they can't travel it, ethnic flavours from countries like West Africa are great way to diversify your menu.
Are you interested in taking your menu to the next level? Reach out to the team at Moffat to learn more about Merrychef ovens today.