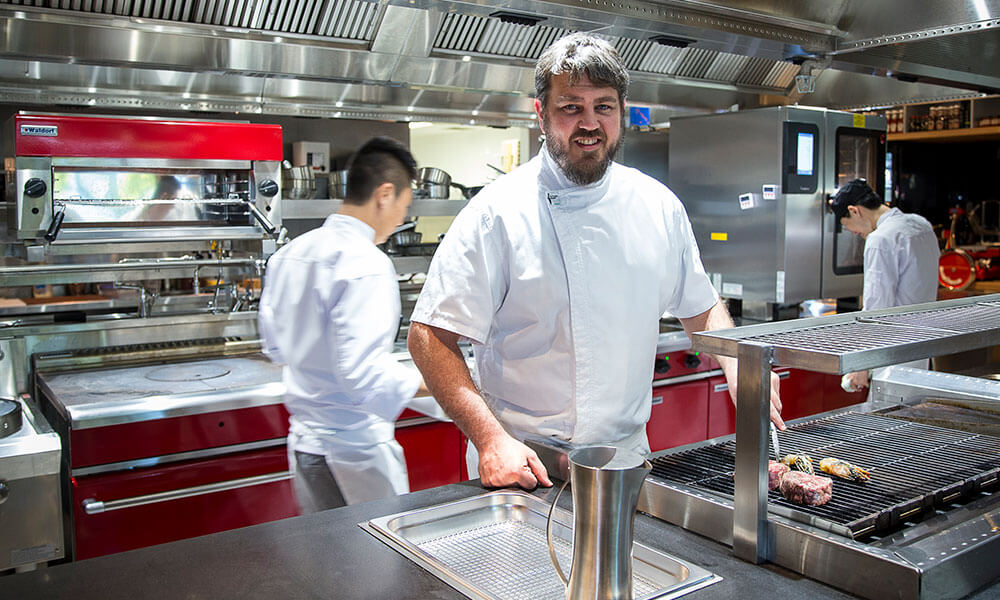 Opened in 2016 by global chain Accor, the new Pullman Hotel at Sydney Airport warrants more than just a flying visit.
Mobius Bar & Grill caters both for hotel guests seeking a special dining experience, as well as those simply wanting quality food on the go. With an open master kitchen as well as a satellite dispense kitchen for events, Simpson's operation buzzes through the work all day long. Managing a team of 15 staff, and producing meals for between 300 and 600 people a day, the kitchen and its users need to work hard.
IN THE KITCHEN
Given the kitchen is on permanent display, the Waldorf Bold Series was an obvious choice. Finished in a striking red, Executive Chef Daniel Simpson calls the commercial cooking equipment "stunning" and says it has become "a real feature of the restaurant". "The Bold range suits each application in the kitchen. Seeing the equipment, I was confident it would do the job for us reliably and to a good standard," says Simpson.
The Bold series is complemented by a Convotherm combi-oven and Wexiodisk rack conveyor dishwasher. "The Convotherm does everything we ask of it, and the self-cleaning is a breeze," says Simpson. "We also have the smoking attachment, which certainly takes the guesswork out of barbequing," he adds. "I smoked a Wagyu brisket for our opening party. It was as simple as inserting the probe, and setting the temperature, and it came out perfectly."
"Moffat has been a real pleasure to work with, throughout the whole process. The team seems very passionate about helping me achieve a great job."
The quality and range of appliances was a perfect fit. The Waldorf Bold range in red has become a feature of the restaurant. The Wexiodisk Conveyor dishwasher is a workhorse – it goes hard for 16 hours a day with great results. The gear looks great so the team looks after it (and it's easy to clean).
Save
Save