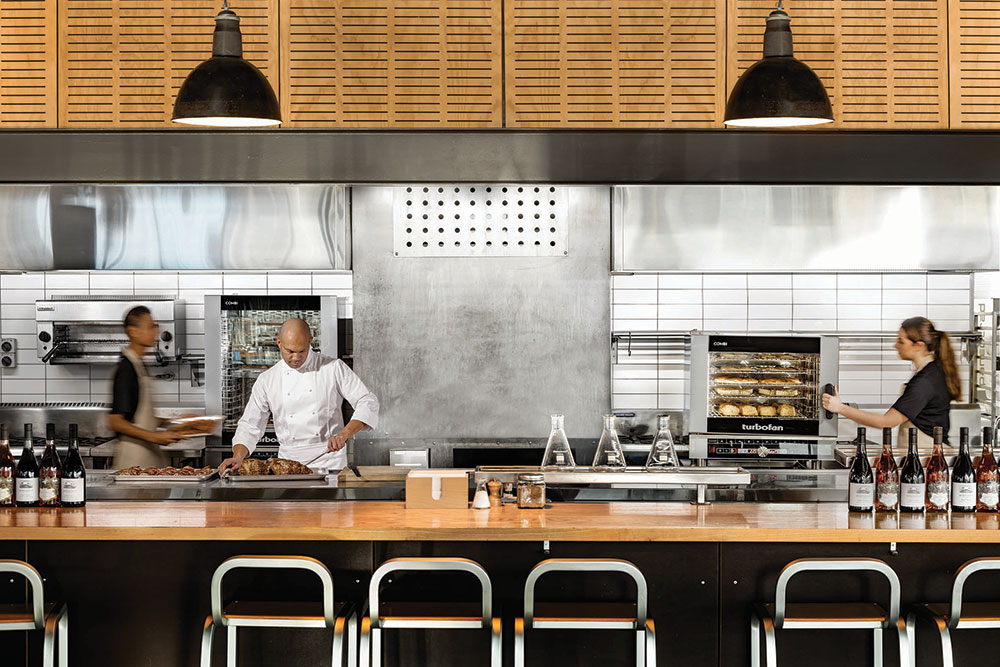 The Turbofan's consistent performance, compact footprint and many innovative features have been hugely popular in recent years. Now, with the launch of the Turbofan Combi 40 Series, there's even more in less.
Officially launched in September at the Melbourne Fine Food Show, the new series delivers enhanced flexibility and convenience with the addition of a new combi oven mode. Importantly however, it retains Turbofan's legendary compact size, and boasts a small
812mm-wide footprint.
"This is a significant move," says Michael Lillico, Moffat's General Manager Sales and Marketing. "It's (Turbofan) one of our most popular brands and the new series follows the Turbofan oven philosophy of 'small footprint, big features' – an approach we believe customers will continue to be impressed by."
Perhaps the most notable feature of the new series is its versatility. Each of the ovens in the Turbofan 40 Series can operate in three modes: combi, convection, or steam. This means they can provide high levels of quality output across a very wide range of products, from patisserie-style baked goods to meat, fish and vegetables. In addition, the new series provides flexibility in terms of cooking capacity –there's even a unique grill support system with variable positioning for specialist savoury baking trays.
With its compact size the range is ideal for the smaller kitchens in cafes or bars too. Every oven in the series can be bench mounted or stand mounted sophisticated modern design makes it ideal for front of house cooking and bar areas where the equipment is on display.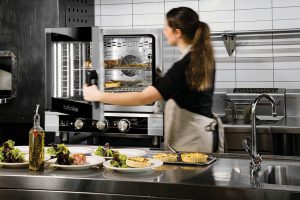 Manual or Digital – it's your choice.
There are manual and digital ovens to choose from. Manual provides everyday ease of use, with three controls to set cooking mode, time and temperature. Digital includes a 'touch and cook' function with ten pre-set cooking programs, easy-use food design icons,
central scroll and push knob for settings and options – all important functions for use in a busy kitchen. A further 89 programs can easily be set for future use.
Automatic inversion of the direction of the fan ensures perfectly uniform cooking. An 'ecospeed' function on the digital version calibrates power levels based on the amount of food that is being cooked, optimising consumption and minimising waste. Cleaning is
also easy. There's an externally fitted hand shower on all models and an automatic cleaning system with replaceable liquid detergent on the digital models.
As always, the ovens also represent excellent value. "The pricing on the machine certainly opens up the ability for more businesses to purchase a combi-steamer," says Lillico. "With the features on offer and backed by the Moffat service and support network, we expect the new 40 Series Turbofan combi to provide a new dimension to our customer's kitchens."
Learn more about Turbofan Combi
Save