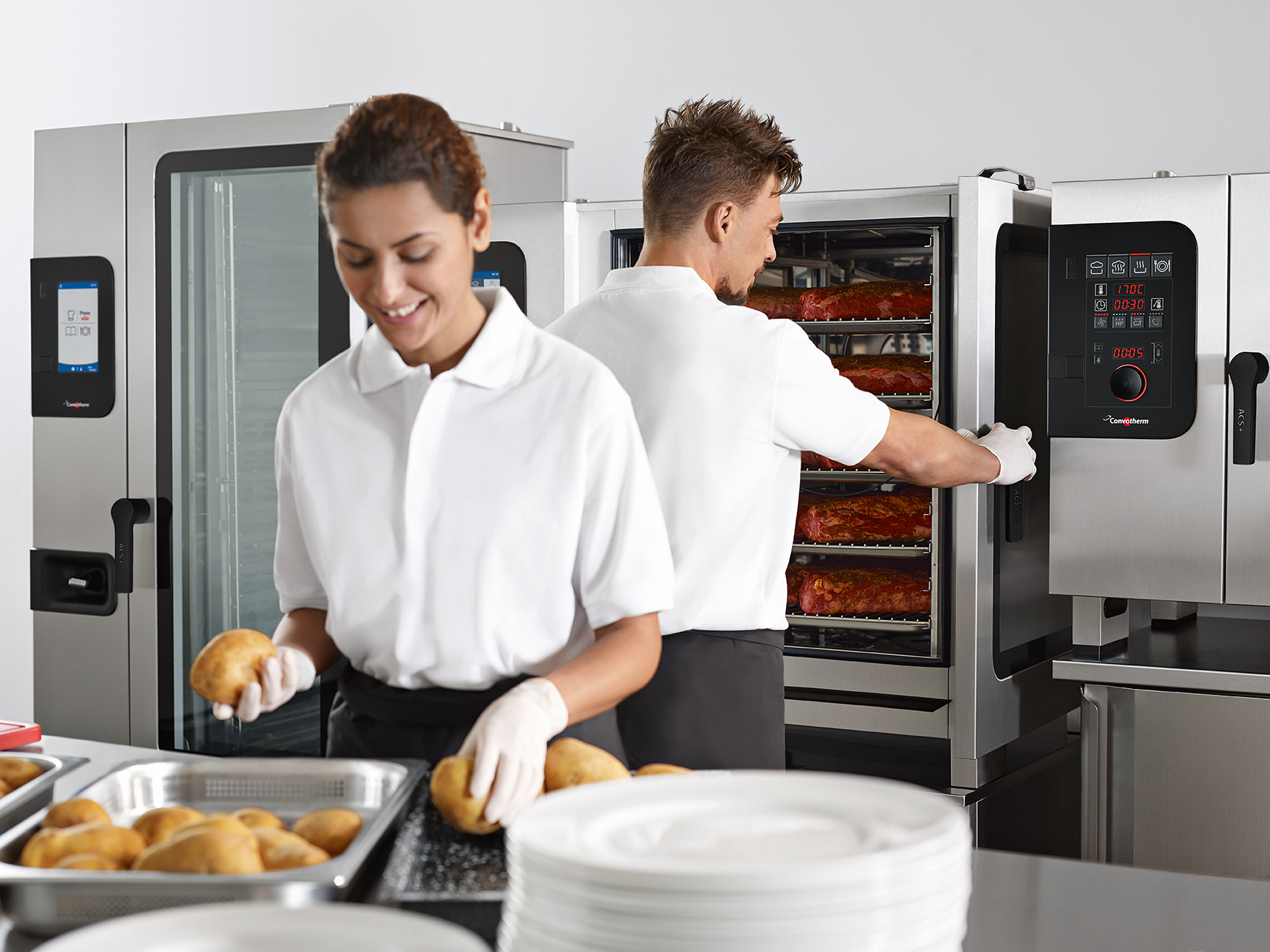 Our Convotherm 4 easyTouch Combi-Steamer Ovens now features a Disappearing Door which ensures easy access to your cooking and provides a safer working environment.
Advantages of the Convotherm Disappearing Door
1. Ideal for busy Commercial Kitchens
When space is tight around the commercial kitchen, you get the additional flexibility where staff can open the door and slide it along the side of the combi oven to create more space during busy times where staff need to walk back and forth during service.
2. Safety First
The disappearing door allows staff to safely move around your commercial kitchen and lowers the risk of accidental burns, spillages or food falling on the floor.
3. Easier Lifting
With better access to the oven, it's also easier to lift out heavy or large trays of hot food. This also means staff are less likely to receive burns or accidentally drop food.
 "The Convotherm electric 20.10 combination oven steamer is the most essential piece – runs 24 hours a day. We exploit every feature of the machine – especially the overnight cooking and power saving facilities. I just couldn't live without it." – The Waves has installed three Convotherm electric steamer ovens.
Craig Stelmack – The Waves Sports Club – Bundeberg, QLD.
 Easy to Use
The Convotherm is also a favourite with chefs', as it's easy to use, allows for pre-programming of recipes, safe overnight cooking without open flames,  and provides consistent results every time.
Once the door is closed the Convotherm is completely sealed. This results in faster cooking times, less energy and water usage. The advanced closed system is also makes it ideal for steaming and smoking.
Save time on Cleaning
The Convotherm 4 Combi Ovens also features a fully automatic Self Cleaning system which achieves optimum hygiene at the touch of a button – with no need to touch cleaning fluids.
 Versatile Cooking Functions
Steam: precise steam cooking from 30C to 130C. Optimum results for vegetables, dough products and fish which retains vitamins and colour and minimises oxidation.
Combi-Steam: from 30°C with automatic moisture regulation. The system remains closed throughout cooking. Retains the intrinsic moisture and flavours of the products.
Convection: Crisp&Tasty mode keeps the moisture in products due to the closed system and you can adjust the crust and crispness to suit your requirements.
Regeneration: you can regenerate your products precisely as though freshly cooked.
Find out more…
We're here to help you find the right equipment for your commercial kitchen. Book a FREE Demo with one of our fully qualified chefs at our fully equipped showrooms.