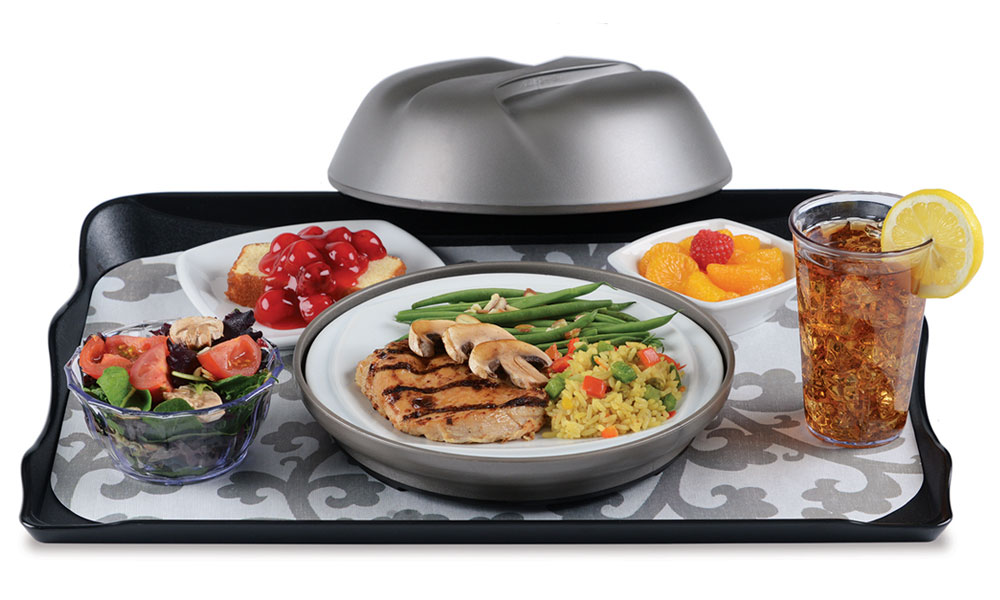 Aladdin Temp-Rite insulated meal delivery system dishware range will raise patient satisfaction with the hotel-like presentation that your patients will love.
With the modern and refreshingly stunning colour palette range now on offer, it's time to re-think your meal delivery colours. Whether it's the subtle Bronze in the Essences or the velvet Evening Blue from the Allure range, there will be one suitable for you.
ATR is ticking the boxes in the colour range, functional style and sophistication. Their insulated meal delivery system has been manufactured to ensure the food served is at its optimum meal service temperature. Above all, complying with food safety requirements is critical to the success of your meal delivery.
The shape of the 230mm dome allows for more food clearance on the plate yet still lets you stack more domes in less space. Hence, it's great for storing and handling. The asymmetrical design separates a smooth top surface from the contrasting textured low surface. It is fully foamed insulated therefore assists in trapping the heat in. Distinguish ward areas, dietary or even food types by colour coding the mugs and bowls in the range.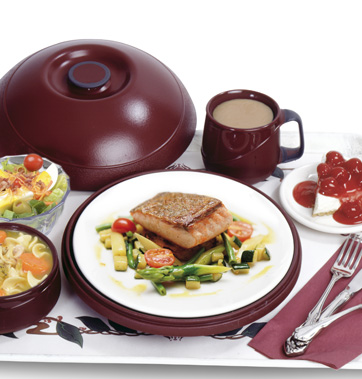 Meal Delivery choice
When it comes to meal delivery, there are certain criteria to take into account during the decision process. When in a hospice-style care facility the consensus is not always favorable when it comes to meal delivery satisfaction scores. A visual display is very important when it comes to presenting food as we often eat with our eyes first. For that reason, if the food is not visually appealing, it has the potential to turn patients away. Similarly, it will be less appealing if the served food is not at the correct temperature.
In order to maintain the standards of the meal delivery operations and the needs of the patients or residents, it is important to establish a functional meal delivery system. As a result, the satisfaction ratings will improve in general. Such as:
The cooking – cook fresh or cook-chill
The delivery – room service or dining service
Distance and navigation
Food temperature
Dishware offering an attractive and modern colour option
Plating of food to entice
Attention to placement
The Aladdin Temp-Rite range has been carefully researched and developed to ensure superior meal distribution solutions. It is paramount to maintain the served food's temperature from the kitchen to the patient. ATR has products that included patented insulated trays, induction heating systems and integrated range of ancillary equipment for cook-chill systems.
Innovative approach in the healthcare and hospital markets
With hot-line, cook-chill and cook-freeze applications, Burlodge distribution systems also provide an innovative approach for the healthcare and hospital markets.
Burlodge offers clients a varied product line that caters to the entire spectrum of requirements for multiple portion meal tray distribution. The well-constructed, stylish range is suitable for both traditional cook-serve systems and cook-chill. Above all, with the additional flexibility through the personalisation of individual patient trays.
SDX Thermobox provides a simple and affordable solution to bulk or portions' meal transporting. The carts are designed to be moved easily by staff. Most noteworthy is the plug and play operation, which reduces the challenges associated with adjustable controls. This range offers both cooling and heating for safe food transport and is extremely flexible.
Would you want to know more about the Aladdin Temp-Rite, Burlodge and SDX Thermobox product range? Simply check out the style and colours on offer at Moffat website or contact us.
If you are attending the IHHC Annual Conference 2018 at Hilton Hotel Sydney 15th – 17th October please pop over to our stand at number 23. Come have a chat with one of our experienced and well-informed Account Managers face to face!