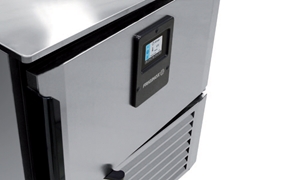 Most people know that after a certain amount of time, fridges start to ooze pungent smells. It's all the old food at the back or spilt juices that contribute to a buildup of questionable odours.
For your restaurant or cafe, where you use a fridge countless times during the day, it's of the utmost importance that your commercial fridge is kept clean for hygienic standards. The Australia and New Zealand Food Standards Code states that every surface in close contact with food must not compromise the safety of food meant for consumption. This means clean bench surfaces, combi-ovens and the inside of all your other commercial kitchen equipment.
While a fridge can be easily cleaned out with a sponge and soapy water, what about a blast chiller or freezer? It requires being a little more thorough, and since it's the first place of contact your food will have before entering the fridge, it's of vital importance that this equipment is kept sanitised and hygienic.
Fridge and freezing functionality with Friginox
Friginox's blast chillers and freezers offer many different shapes and sizes to complement your commercial kitchen, but all their internal cabinets have rounded corners just for the sole purpose of easy cleaning. It means there are no awkward crevices or cracks for bacteria to hide in, and you can easily wipe away any stains or food particles on the inside.
The front door is also equipped with a tight magnetic seal to keep out as much dust and dirt as possible, but regular cleaning will ensure that the interior is maintained to the highest hygiene standards.
Some cleaning tips to avoid a chilly situation
As with cleaning any fridge, you'll need ample time and to plan in advance, choosing a time outside of business operating hours where all your cooking equipment doesn't need to be in use.
Make sure the blast machine is unplugged and in a safe environment for cleaning. You don't want to damage anything and will need to keep water away from any electrical outlets.
Start with the door gaskets to ensure that the seal is in good condition. It helps to maintain the temperature inside your blast chiller or freezer, and if you see any cracked or brittle rubber, give the Moffat Service and Support contact centre a call to get an expert on the job immediately.
You'll also need to check the probe is clean of any residue to avoid cross-contamination, as well as the condenser coil. Lastly make sure the drain line is clear – all these steps will help your machine to run effectively and efficiently in your kitchen.
If you have any more queries or need to order some spare parts for your machine, call Moffat on 1800 337 963. After hours, your call will be directed to a local service provider so you get technical care 24/7.