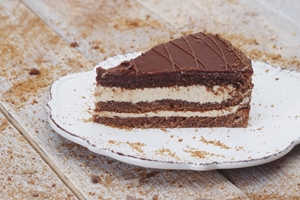 Everyone loves a good cheesecake. It's a universally popular dessert that delights the taste buds of many people.
According to Cheesecake.com, the origins of this delicious recipe can be dated back to 2000 B.C. in Greece! It's not New York, as most people would think.
Cheesecake is one of those desserts that allow you to be as creative as you wish, easily adopting a multitude of different flavours, such passion fruit, blueberry, chocolate or salted caramel, to just name a few.
However, one of the most fiddly things about baking a cheesecake is the time. You have to let it sit in the fridge for around two to three hours before you can serve it, so if you're baking a batch of cheesecakes for your bakery, you'll need to be very proactive in planning ahead of time so you have enough stock to sell the next day.
With a cheesecake, the majority of time to complete it is the chilling process – if you can cut out the middle-man of sitting in a fridge with one of Friginox's commercial blast chillers, imagine how many cheesecakes you'll be able to whip out in record time!
Chill out with cheesecake
1. Grease a 24 cm springform pan.
2. Combine your biscuit crumbs with the appropriate amount of melted butter. Mix well then press firmly into an even layer on the bottom of the pan.
3. Place in your Friginox blast chiller and set the programme chill time to bring it down to 4 degrees (fridge temperature). This leaves you with a nice set base. It's important to establish good foundations to hold the body of your cheesecake so it doesn't collapse and so that the base doesn't crumble underneath. You don't want the bottom to fall out!
4. To prepare the winning filling of your cheesecake, sift sugar and flour in a bowl. Add eggs, vanilla extract and cream cheese periodically until you create a smooth consistency.
5. Place in your blast chiller, and again, bring it down to fridge temperature. It should be set in a fraction of the time it would take to chill slowly in a fridge, and the beauty is, once it's out of the blast chiller, it's ready to slice and serve.
It's fast with food, it's Friginox
Friginox makes it simple. You can program specific settings so that time after time, when it comes to chilling your cheesecake, it only requires the push of a button. You can create multiple cheesecakes in one go, and imagine how much bench-space you'll save for other baking projects!
Contact Moffat today to bake (and chill) some cheesecakes.