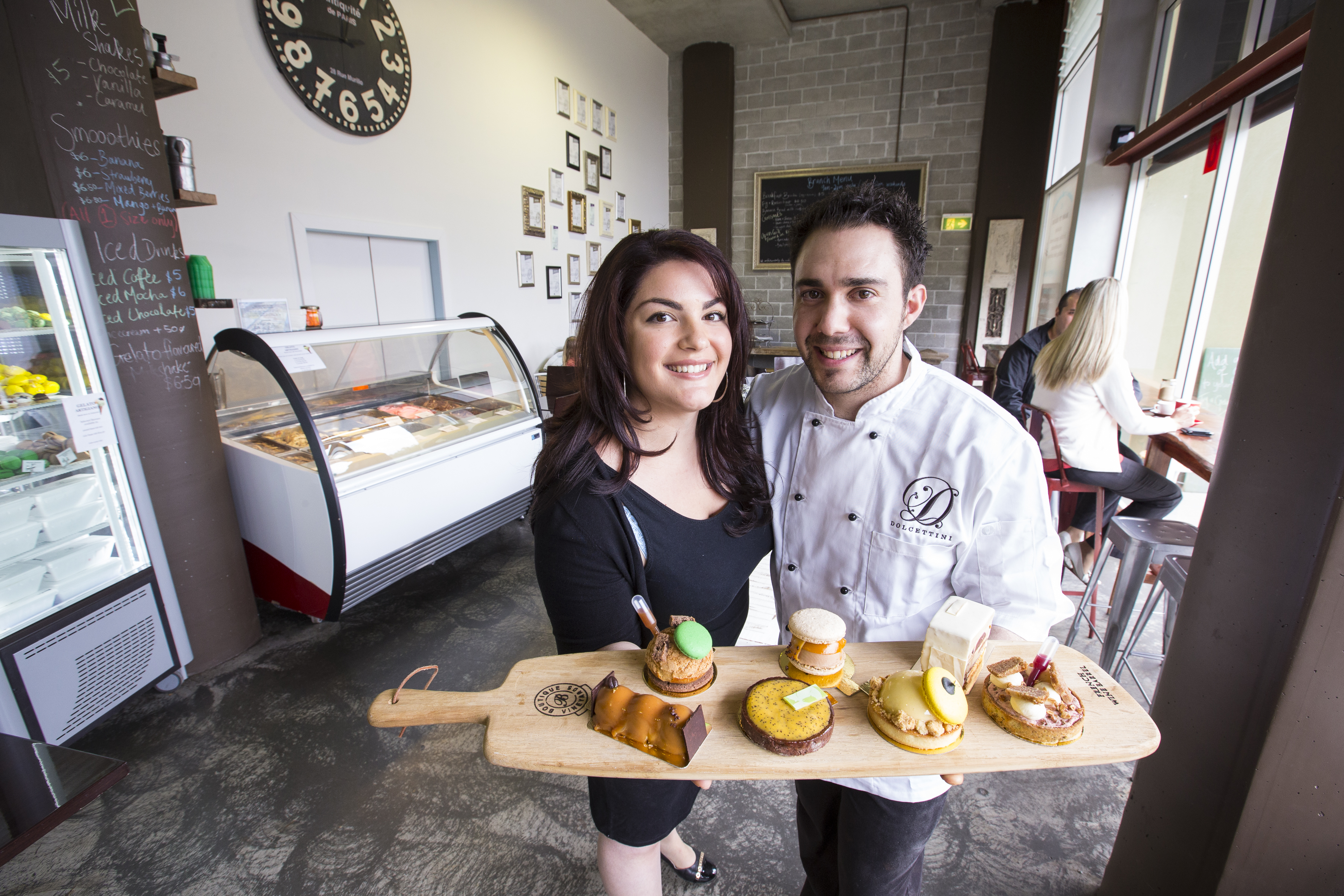 At Dolcettini every dish served is evidence of the passion, dedication and absolute skill of Head Chef Francesco Gulisano and his wife Bianca, who runs front-of-house.
Francesco's credentials are impeccable. By the age of 27 he'd won over 40 fine food medals, been named Apprentice Baker of the Year and is heralded as one of Sydney's most talented up-and-coming chefs. Setting up his own flourishing business has been further proof of his talents, and Dolcettini is fast gaining favour as one of Sydney's finest patisseries.
Nestled in Dural, the eatery has a modern, relaxed atmosphere and a range including homemade artisan bread, coffee, fresh gelato and light café meals. But it's the delectable, handcrafted desserts that have both locals and foodies from further afield coming back for more.
Francesco frequently devises such desserts at home, often with just a pad and paper. "It's all about thinking about flavours that go together, or that could go together," he says, "and then delivering them in a new, fresh way".
Some creations – such as the signature 'XTC' cake – are incredibly complex, each layer and component requiring its own technique and specific assembly. Despite this intricacy Francesco points out it's often the simplest things that are the most enduring. Their strawberry tarts and lemon meringue tarts are incredibly popular and one of his most awarded desserts is a mouth-watering take on the traditional Italian Ricotta Cornetto.
A self-confessed perfectionist, Francesco says the production process is "all about quality and attention to detail". He insists on only the freshest and finest ingredients (such as Lindt chocolate and whole vanilla beans), and the culinary couple have invested significantly in their kitchen fit-out.
There's conclusive evidence that such investment has been worth every cent. Since opening in 2011 they've increased revenue by over four hundred percent, opened a catering and wholesale business and hatched plans to open another restaurant on Sydney's north shore.
Dolcettini's set-up is a far cry from the domestic arrangement where Francesco and Bianca first started. From humble beginnings with a small commercial oven for their desserts they now enjoy a variety of first-class kitchen equipment.
This includes a Tagliavini Rotovent Bakery Oven (with a rotating trolley for perfectly distributed baking) and a Tagliavini Modular Deck Oven specifically designed for producing quality pastries, bread baking, artisan breads and float loaves.
For the very best consistency with pastries they opted for a Craftsman Pastry Sheeter. This technology is completely automated and produces beautifully layered croissants, freeing up Francesco from this area of production.
Helping make everything a piece of cake is a Paramount 60 Litre Planetary Mixer and a Pani Clima Retarder Prover. With the arrival of a GL Mini LeVain Tank to hold liquid culture for sourdough the restaurant will continue to evolve and grow its culinary capability.