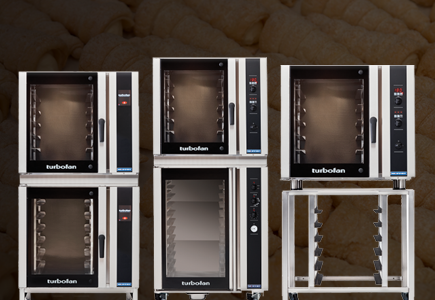 A New Upgrade to the Digital Revolution: TURBOFAN E35 Electric Full Size Convection Ovens
26/Jul/2016
Highlights
FOR SPEED, SIZE AND VERSATILITY
The new Turbofan E35 puts you in control of high-performance oven technology for precision baking, roasting and regeneration. It is the largest convection oven in the electric oven range.
When accuracy is crucial Turbofan's smart vent control technology gives you the option of manual oven vent control or automatic control to open and close vents at different stages of baking. The auto vent feature removes heat and moisture from the oven cavity during the crucial last stages of baking cycles for the perfect crust on baked goods.
Offering the durability and sleek looks Turbofan is renowned for, the E35 features a safe-touch vented door and pendulum handle. With an impressive 12kW of heating power, the E35 maintains its record with fast heat recovery and accurate baking, as a result from the combination of the two-speed bi-directional reversing fan and vitreous enameled oven liner. What this achieves is consistent heating within the whole oven chamber, eliminating cold and hot pockets and is especially convenient for baking convenience products, such as pies.
The E35 Turbofan range can be further complemented by adding the new P85 Prover/Holding cabinets – building the perfect Baking Centre or Cook 'N' Hold System all in the same oven footprint.
Designed for versatility and flexibility, you can prepare a variety of meals from breads, pies, muffins to roast beef, chicken, lamb and pork to meat loaf, potato bakes, braised steak and casseroles, to scratch baking, frozen doughs and par bake products.
GO DIGITAL
The E35 now feature digital display as standard – large easy view displays, knob driven time and temperature controls providing full electronic precision for time and temperature accuracy. The digital controls easily provide consistent results every time, whether it's croissants, Danish pastries or savouries.
For more information about each digital model, clicks on the links below.
ONE TOUCH CONTROL
For maximum intuitive functionality and pre-programming usability, the E35 One Touch is for you. The One Touch E35 features manual and pre-programmed operating modes, individual shelf control, multi-stage cooking and optional core temperate probe. Choosing a touch screen makes the most of intuitive functionality and pre-programming usability. The icon-driven menu makes for uncomplicated training of staff, and consistent quality is a touch of the screen away.
For more information about each touch screen model, clicks on the links below.
Both the digital and touch screen models share these standard features:
Save precious space with compact designs
Vitreous enamelled oven chamber
Plug-in continuous oven door seal
Safe-touch vented drop down door seal
Stay-cool door handle
Heavy-duty door hinges
Easy clean door glass system
100% recyclable packaging
NEW P85 PROVER AND HOLDING CABINETS
Increase productivity without increasing floor space, the redesigned to complement the new Turbofan E35 ovens, the P85 is a full-size electric prover and holding cabinet to complete our high performance baking centre.
Stylish and durable on the outside, the P85 is full of innovation on the inside and delivers accurate proving of fresh and frozen dough. The P85 controls heat and humidity with its manual control for accurate yeast activation and thermostat control ranges from 20-40°C for proving, while in hot holding mode the temperature range is 65-85°C.
Clever, compact design, the P85 has 2 models available – 8 or 12 trays versions that accommodates 16" x 29" trays, or 8 18" x 30" trays with optional 18" rack set.
For more information about the P85 models, clicks on the links below.